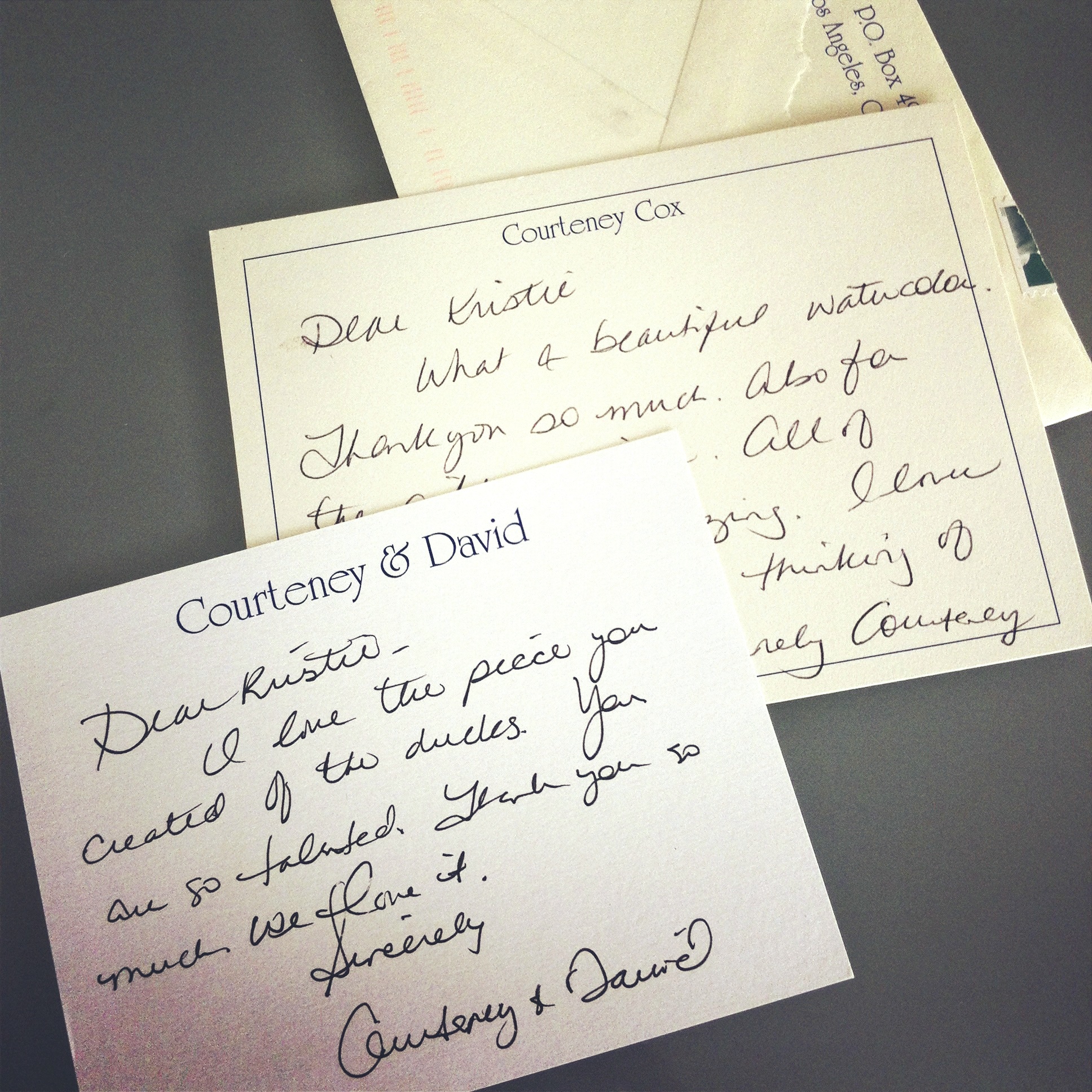 Dear Kristie,
What a beautiful watercolor. Thank you so much. All of your work is amazing. I love it. Thank you for thinking of me.
Courteney Cox Arquette | Los Angeles, CA
"We constantly get compliments from our friends on your artwork and have enjoyed it tremendously. We look forward to seeing your future work."
Nadia and Husam Nazer | Beverly Hills, CA
"I have known and loved Kristie and her artwork for many years. I own a few of her whimsical water color paintings and more recently her beautiful oil paintings.Two of the oils were purchased at a gallery that featured Kristie's artwork. I was fortunate enough to purchase the beautiful "Duet." When I saw this piece I just had to have it and now it hangs in my entry way for everyone to see and enjoy. The other oil is my husband's favorite "Yes and No." This set hangs in the family room and is a great conversation piece.
I also commissioned Kristie to create an oil painting for a large wall in my master bathroom. She painted the most beautiful flower in pinks and purples with accents of taupe. I love how she blends the colors to create her design. It is a gorgeous piece of artwork and I love and enjoy seeing it in my now gorgeous master bathroom.
From Kristie's whimsical water color paintings to her beautiful, bold and big oils, Kristie's paintings fill my house with beauty, warmth and interest. It's a privilege to know Kristie and I'm so proud of her accomplishments andI wish her much success and happiness."
Kaz Toyofuku | Huntington Beach, CA
"Thank you so much for the beautiful art that you created for our home. It is truly everything we had hoped for when we commissioned the piece. You are so talented. I hope that you will fill our walls with more of your work for years to come."
Cathryn and Adi Benner | Los Angeles, California
"Usually in our gallery, new artists are part of a group exhibition. But with Kristie, it was different as we gave her a solo show back in 2006. She is a very strong artist-her brush strokes are very strong and she knows colors perfectly. Her compositions are very beautiful and pleasant. I always feel a peace of mind and joy in her art works. To me it is refined and the signification of beauty."
Maryam Seyhoun | Seyhoun Gallery
"What a beautiful creation. We were stunned when we unwrapped it. You re-colored the areas we discussed perfectly. We are amazed how the painting picks-up our furniture and art glass…. It's good doing business with a true professional."
Dave & Joan Minney | Laguna Niguel, CA
"I also wanted to let you know how much we are enjoying your paintings. Everyone at the gathering we had last weekend asked about them! With the frames Bruce and Janis chose, they really look beautiful on our walls. We'll have to have you over again to see in person the next time you come to the mainland."
Vickie Tani | Los Angeles, California
"I am a collector of Kristie's works now for the past six years and I saw her "Elation" piece at an art gallery opening in Culver City. This piece looks absolutely stunning in my great room and I truly feel a sense of happiness and energy exuding from her work. Kristie and her art touches the heart of people's lives and I am blessed to have her art in my home."
Steven Griffith | Los Angeles, California
The painting I purchased has a very special meaning for me and whenever I look at it, I'm reminded of God's grace in my life. I not only love the painting but I feel very blessed to have it.
Maureen | Honolulu, Hawaii